Themed Promotional Events
04 May 2012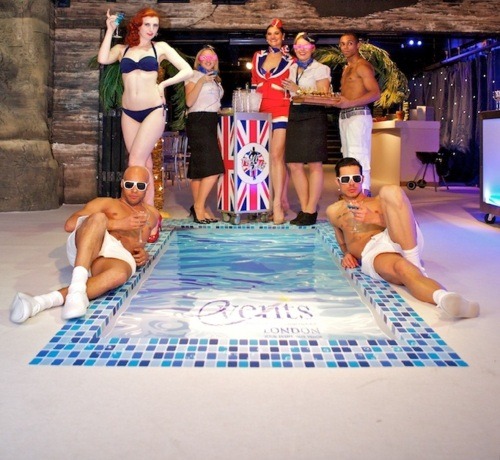 Blog #15 Miami2Ibiza (case study)
By Carolyn Mason, Senior Events Manager, Merlin Events London
@MerlinEvents on Twitter
Party name: Miami2Ibiza
Date: 13th March 2012
Venue: The SEA LIFE London Aquarium
The SEA LIFE London Aquarium has been planned with you; the event organiser in mind, with many connecting fully themed areas the venue is ideal for a range of events from networking to awards dinners. Everything is already included in the package; integrated audio, furniture and lighting effects. The venue can easily be transformed to suite any theme. We proved this with our Miami2Ibiza party.
Guests were invited to "come fly" with the Merlin Events team and enjoy a first class party from Miami2Ibiza; one night and two sexy locations. When confirming their attendance on the online booking system, a personalised boarding pass was produced. Guests were asked to bring this boarding pass to the SEA LIFE London Aquarium departures desk on arrival.Hostess check-in staff ensured that passengers had packed their own bags and were not carrying liquids before checking in their bags.
The hustle and bustle of the airport was enhanced with a bespoke soundtrack comprising of genuine airport noises captured in Gatwick Airport and overlaid with our very own announcements including inviting guests to the VIP cocktail lounge!The screens in the main entrance that we usually use for client branding scrolled departure information for guest's flights to Miami and Ibiza.
Merlin Airport security performed a thorough body search of passengers who filed through the security gate before they crossed over the Atlantic by walking over the BRAND NEW Shark Encounter and arrived at their first destination of the night: Miami.
In Miami guests enjoyed Bikini Martini's and South Beach Ice Tea cocktails served from Cadillac bars.Roller booting waiters whirled around with mini pastrami bagels with pastrami and corn dogs in The Deep, and guests chilled out South Beach style in the Pacific Wreck while they waited for their flight to Ibiza on genuine aeroplane seats!  Two Troli Dollies (provided by Globestar management) wheeled their hostess trolleys laden with goodies (G&T's, miniature spirits and packets of nuts and sweeties) refreshing guests while they waited for their flight.
Next stop Ibiza… guests made their way through the Ocean Tunnel and arrived on The White Isle; Ibiza – the home of pool parties! The whole room had been carpeted before the event (a challenge considering the 1.5 hours get in time) to give the room an opulent Ibiza pool party feel. A 3D vinyl graphic of a branded Merlin Events swimming pool looked so real you wanted to dip your toe in.Palm trees lining the pool enhanced the Ibiza beach vibe.
Guests feasted on a Balearic buffet; an inspired menu devised by Dish including a whole suckling pig, red snapper wrapped in banana leaves and BBQ skewers.Mini churros and ice cream cones sweetened guests giving them an appetite to PARTY!
Branded 3D glasses (from 3D Promo optics) were handed to all the party people, giving the whole room a trippy experience; smiley faces jumped out from every pin-spotted light! Ibiza soulful vocal club singer Tonnic accompanied our resident DJ Steve's Ibiza hits! Steve enhanced his set by utilising the 5 installed plasma screens in the room to project funky Ibiza images and video.This VJ set totally rocked the Aquarium making it the party to be at in London that night!
Twitter posts went crazy that night with guests tweeting what an amazing experience they had. They didn't want to leave and wanted to party all night! Social media messages went mad that week and everyone enjoyed tagging and liking their photos on our Facebook page (uploaded by our Facebook photographer that is included in every package).Event magazine enjoyed the party and gave us a double page spread in the April edition.
This promo proved that with good planning and great event partners, you can totally transform an event space in less than 2 hours from its regular state to an American dream, and an Ibiza pool party that rocked – It's just a shame that leaving the party guests were confronted with the cold British winter weather!
View pictures of the Miami2Ibiza party on our Facebook page and online video
INTERESTED? LET'S TALK AVAILABILITY!